| | |
| --- | --- |
| | The jackal prowls the caverns for intruders to rend with its powerful jaws. |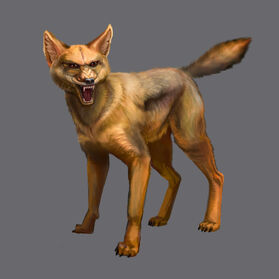 The jackal moves quickly.
Jackals are fairly common enemies found in the early dungeon represented by the letter j. Jackals move quickly. This means that they move two tiles each turn. They frequently appear in packs, which can be deadly.
Fight packs of jackals in corridors so that they can't swarm you. It's worth letting them take a few free shots at you while you maneuver to safety.
When near a jackal that is hunting you keep backing up until it is directly adjacent to you. That way you can strike first.
Monsters
The charming inhabitants of the dungeon:
Ad blocker interference detected!
Wikia is a free-to-use site that makes money from advertising. We have a modified experience for viewers using ad blockers

Wikia is not accessible if you've made further modifications. Remove the custom ad blocker rule(s) and the page will load as expected.