| | |
| --- | --- |
| | The rat is a scavenger of the shallows, perpetually in search of decaying animal matter. |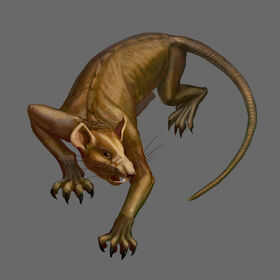 Rats are the pushovers of the dungeon. They deal the least damage of all enemies that directly attack you, and have very low health. They are not giant, plague-ridden, or skeletal. They are just rats. It is a sad day when an adventurer falls to the likes of a rat. They appear starting at depth one.
Rats have no intrinsic attributes.
Monsters
The charming inhabitants of the dungeon:
Ad blocker interference detected!
Wikia is a free-to-use site that makes money from advertising. We have a modified experience for viewers using ad blockers

Wikia is not accessible if you've made further modifications. Remove the custom ad blocker rule(s) and the page will load as expected.